few hours after the announcement of upcoming album launch concert in July this year, Chizmo njuchi has been already secured a space as a performer at the concert on the 23rd of July in the City of Blantyre at Blantyre Sports Council. Chizmo Njuchi did not just an find a  place as an ordinary performer but a Headliner, someone who will perform at the very last before the Main Headliner at the show.
The album is expected to be out on 6th July 2021 which is the independence day of Malawi. This will be a follow up of Gwamba's previous album which was dropped in 2019.
Currently Gwamba is asking his fans to choose other musicians whom they'd love to see them performing at the concert.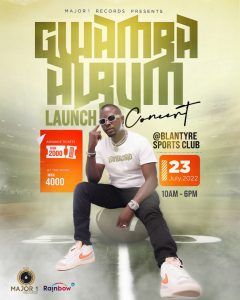 Gallery for CHIZMO NJUCHI TO HEADLINE 'GWAMBA TRUE INDEPENDENCE ALBUM LAUNCH CONCERT'
(Visited 256 times, 1 visits today)